Petsoft Personalized No Pull Dog Harness
Collars, Harnesses & Leashes
Collars, Harnesses & Leashes
Our harness is designed to Discourage Pulling Behaviour. Traditional Harnesses encourage dogs to pull harder because of the opposition reflex. The reflex causes dogs to pull against the pressure.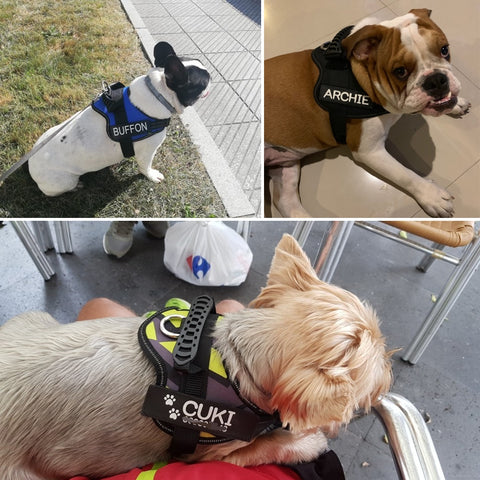 What's new in our Premium Dog Harness?
🐕IMPROVED SECURITY
Our upgraded harness come with a lock/Unlock switch on security buckles, which prevents buckles from accidentally opening.
🐕ADJUSTABLE NECK STRAP WITH BUCKLE
🐕HIGH QUALITY REFLECTIVE STRAPS
🐕SOFT BREATHABLE PADDING
🐕UPGRADED STRONG HANDLE


SIZE & MEASUREMENT
Please take the measurements carefully. Returns are not offered on personalized products.
WHY THIS IS THE BEST DOG HARNESS?
Our No Pull Dog Harness is made to discourage pulling behaviour and help you gain more control on your walk and prevent your dog from hurting himself.
 Stops Pulling - For Better Walks for You & Your Dog
 Easy Off/ Easy On - Hassle free On / Off in 2 Seconds
 Adjustable straps - Fits Your Dog's Body perfectly and comfortably
 EZ Grip Handle - Multiple uses including helping dogs walk, more control, and taking it off quickly
 Reflective - More visibility on night walks for increased safety and peace of mind
 High quality - Durable & Made to Last
 Multiple Colors - Find one to fit your dog's personality
OPTIMUM LOAD DISTRIBUTION
Based on mathematical equations, each of our personalised harness size has a high-quality chest strap designed with a specific size and angle for effective load distribution which gives you better control and prevent pulling behaviour.
HEAVY-DUTY BUCKLES
Made from high-quality materials and features heavy-duty buckles that are tensile-tested.
SHIPPING
All Shipping is sent via Airmail with tracking number.
Once item has been shipped tracking will be automatically emailed to you.

Due to extremely high demand, orders take 12-18 days to ship and arrive. Please be patient, we are doing our very best to fulfil every order that we receive!
Coronavirus impacts to delivery services

We're experiencing delivery delays at the moment, due to limited flights, social distancing requirements and increased parcel volumes. We appreciate your patience during this time.
(Note:Customized models can add text / Tel / pattern / logo
If you can make a picture and send it to us, it is the best.)
Please contact us at petsoftcare@outlook.com if you need assistance.