PETSOFTCARE® Snail Shape Cat Dog Water Dispenser
Cat Feeder & Waterers
Cat Feeder & Waterers
⭐97% Reviewers Recommend This Product 
😻Why Choose our Pet feeder ?

Designed for cats and dogs, grab all the confusion and create a comfortable and pleasant dining experience for them!A nice bowl is the first step to show your love to them. Watching cats and dogs eat quietly, you will be full with a sense of happiness!
🐈Stylish Design, Automatic Refill Easy To Use.
🐕Pets Water Dispenser Materials: BPA Free.
"Another foster room feature. I had a regular bowl of water in the room with a fountain EVERYDAY I had to replaced the water in the bowl which was annoying sometimes. This gravity bowl help big time! It doesn't tip over easily and very easy to fill when it actually does get low but I only have to refill it now every 3-4 days. Very happy with it plus I love the blue color!"     Verified Purchase - Catherine H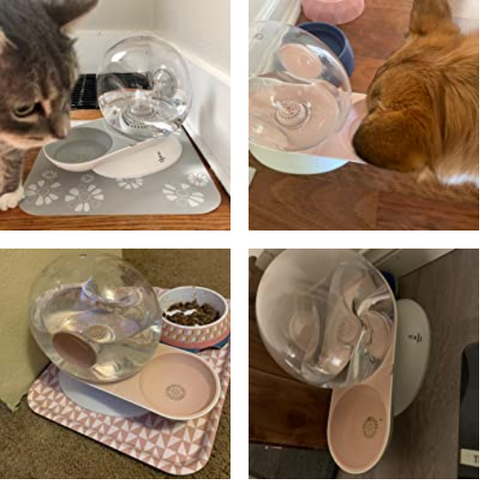 🐱Pets water dispenser materials:BPA Free. Made of environmental friendly, food grade plastic. Non-rusted spring ensure your pet's health.

😸KEEP WATER CLEAN DESIGN: The floating base no touching the floor prevents the growth of stain and keep the water clean and fresh.,your small pets will like this gift,try our special Water Dispenser for your baby cats or dogs. Ball and chassis can be split, you can rinse directly with water, recommend to wash once a week.
🐱AUTOMATIC REFILL: Natural gravity supply system, no electricity required, Eco friendly, dispenser slowly, perfect for pet parents with busy lifestyles. Holds 2.8L water.
😸Unique Design snail pets water feeder:Unique snail shape design is not only simple and stylish, but also greatly increases the capacity of the water feeder.No matter where you put it in your house, it's a nice decoration.Non-slip design allows dogs&cats to avoid overturning the water fountain while drinking wate.
What's our return/exchange policy?
We offer 30 days refund, meet your 100% satisfaction. Our support email opens 24hrs & 7days with our team ready for your assistance anytime. We guarantee that if the product has any quality problems, we will return it for free!
>> Not sold in pet stores! <<

 More detail: