PETSOFTCARE® Orthopedic Cat Bowl & Slow Feeder 2-in-1 [Anti-Vomiting]
Cat Feeder & Waterers
Cat Feeder & Waterers
PETSOFTCARE® 15 Degree Tilted Water and Food Bowls for Pet
Specification:
Brand: Petsoftcare
Material: PP, PET
Color: White
Size(L x W x H):About 240 x 130 x 210mm(S), 270 x 160 x 210mm(L)

😻Why Choose our Pet feeder ?

The Attitude Towards Eating is the Attitude for the Life.
Designed for cats and dogs, grab all the confusion and create a comfortable and pleasant dining experience for them!A nice bowl is the first step to show your love to them. Watching cats and dogs eat quietly, you will be full with a sense of happiness! All our products products are made of food grade materials and easy to care, all we expect is an easy & joyful life for you & your furry friends,and create a comfortable and restful environment for pets to let them grow up more happily.
🐈2 in 1 design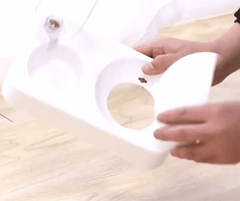 🐈Promote Cat Appetite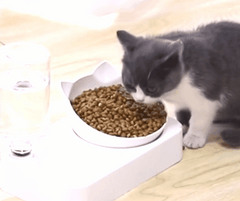 🐈SAFETY and SECURITY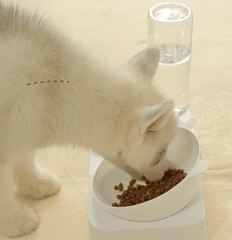 I think that for the price this is a great product. I like it because it's simple and modern looking but has the cute cat ears for a decorative touch. Another reason I ordered it is for the self-filling water feature. The food bowl part moves really easily because it isn't actually attached so if your cat like to knock things around it could potentially be messy. But like I said, for the price it's a great product and it works like it's supposed to and looks cute all the while. Also it shipped really fast. Verified Purchase - Catherine H
😽Features:

15° TILT DESIGN:15°tilted platform, reasonable bowls height reduce stress of cats neck,arthritis or back, the best feeding posture and suits different cats and small dogs. The pet bowl offers easy eating and comfortable licking for your pet.
HEALTHY AND HYGIENIC: Pet bowls are made of 5A food-grade PC material. Non-toxic, no odor, natural environmental protection, light, strong structure and non-friable. It can keep the bowl in transparent color for long time. The stand is made of ABS material, which is more durable and stable when using
DOUBLE BOWLS:This product has two cat bowls that can be used to water and feed pets.Its size is H 6.1"x L 10.8"xW 5.5" and the diameter of the bowl is 5.1".Perfect for cats and puppy.
EASY WASH:Transparent cat bowls are removable, it's easy to take it out to wash and keep clean, what's more, Cat food bowls are also convenient to add food or water
NON-SLIP:The stable bottom base of clear pet food bowl keeps the dishes securely in place and prevents the bowls from clanging through on the floor. There is no worry about your pets overturn the bowl and making a mess on the floor.
What's our return/exchange policy?
We offer 30 days refund, meet your 100% satisfaction. Our support email opens 24hrs & 7days with our team ready for your assistance anytime. We guarantee that if the product has any quality problems, we will return it for free!
>> Not sold in pet stores! <<